Environmental Responsibility
Over the past several years in all departments; jewelry making, packing and shipping,
office, and catalog we have carefully looked at our procedures and applied the
principles of Reduce, Re-use and Recycle.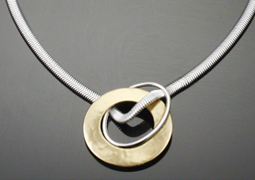 Here is a list of our Reduce, Re-use, and Recycle Results:
Reduce
We conserve water and use environmentally friendly cleaning products.
We have reduced packaging materials and we use electronic records and communications over paper where possible. For example we can send catalogs via email rather than in printed form.
We waste no metals and use chemicals sparingly.
We repair equipment rather than buying new.
Re-use
We re-use cardboard boxes and packing materials.
Paper from faxes and general office are re-used.
We use cloth for cleaning instead of paper.
Recycle
All our metals are recyclable and 30 - 40% are recycled.
Few chemicals are used and those that are are disposed of according to and monitored by the state and local authorities.
We recycle paper and plastic and all used computer equipment.
We use recycled tissue paper for packing.
We use bio-degradable bags for shipping pieces.